Connecticut Governor Lamont holds the lives of these innocent goats in his hands.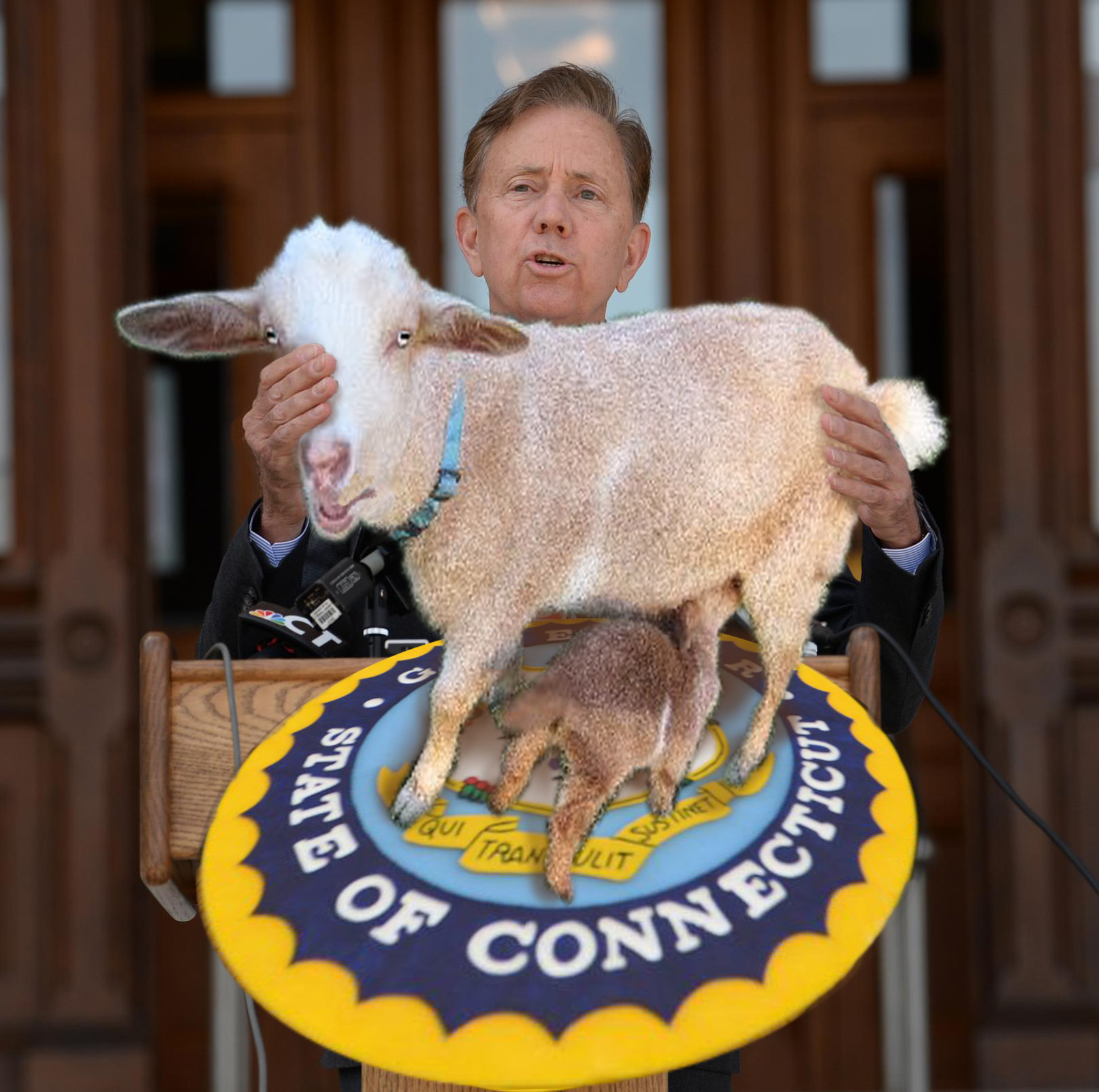 FREE THE GOATS TODAY!


FOR IMMEDIATE RELEASE May 10, 2021

Contact: Nancy Burton 203-313-1510 NancyBurtonCT@aol.com

May 10, 2021 marks the beginning of the third month of the illegal seizure and confinement of Nancy Burton's goats by the State of Connecticut on bogus charges of animal cruelty.
Nancy marked the moment with a renewed demand to Gov. Ned Lamont that the State release the goats immediately from the cruelty and abuse practiced by the State of Connecticut on these beautiful, innocent animals and pay reparations for the death of one of the goats – healthy and robust when seized on March 10, 2021 - after 28 days in state custody. Read letter below.
Nancy has located reputable and qualified animal sanctuaries and private individuals - all devoted to lifelong care of goats – and so informed the state before the horrific seizure.
Rosa Buonomo, president of Stoney Brook Farm Animal Rescue in Harwinton, Connecticut, a Sec. 501(c)(3) animal sanctuary, has this to say:

"I know Nancy and I know her goats. I have been to her property in Redding. I respect her work with Mothers Milk Project. As a professional animal rescuer, I know the state had no business harassing Nancy and taking the goats she loves. I offered to help Nancy well before the state seizure by agreeing to adopt as many of her goats as she wished and the state knew of these plans, which were underway on March 10. I just want to know why, when Stoney Brook Farm Animal Rescue has been willing to adopt the goats at no cost to the state, the State of Connecticut prefers to force Nancy to post a $500-per-goat bond to keep them alive during her court battle plus pay additional expenses in excess of $50,000. It makes no sense."

Since 2008, the goats have been the centerpiece of the Mothers Milk Project (www.MothersMilkProject.org) ("MMP").
Nancy has repeatedly asked the state Department of Agriculture to permit her to inspect the facility in East Lyme, Connecticut, where it says it has confined her goats, to count them, assess their physical state and the conditions of their confinement.
A photograph displayed on the website shows 10 of her goats crowded into a 10' X 10' stall without visible water or hay. The goats, sad-eyed and downcast, are huddled together in a close goat formation that bespeaks anxiety, wariness and fear.

Read the Letter to Governor Lamont:

---

Mothers Milk Project

c/o Nancy Burton

P.O. Box 227

Redding Ridge CT 06876

Tel. 203-313-1510

NancyBurtonCT@aol.com


May 10, 2021
Hon. Gov. Ned Lamont
State Capitol
210 Capitol Avenue
Hartford CT 06106

Dear Governor Lamont:
I am co-director of the Mothers Milk Project (www.MothersMilkProject.org) and in such capacity I have been addressing communications to you since March 10, 2021, when the State of Connecticut, acting under the authority of your office, carried out a terrifying unlawful raid on my home in Redding, Connecticut, forcibly seizing my goats and transporting them to a facility under your control in East Lyme, Connecticut.
I demand their immediate release.
I have communicated similar demands to Bryan Hurlburt, Commissioner of the Department of Agriculture ("DOAG"), Attorney General William Tong, Jeremiah Dunn, DOAG's Chief Animal Control Officer, and others in a spirit of urgency and despair.
Each and every communication has gone ignored while my goats continue to be subject to the deliberate cruelty and abuse carried out pursuant to the authority of your office.
For 61 days, my goats have languished under cruel and abusive conditions imposed by the State of Connecticut; one of my goats died unattended 28 days into her confinement; despite repeated inquiry, no cause of death has been revealed to me. She was forcibly removed from my home in a state of good health
The seizure violates universally recognized protocols of animal care.
As Mahatma Gandhi famously wrote, "The greatness of a nation and its moral progress can be judged by the way its animals are treated."
By this standard, you have disgraced Connecticut.
You have permitted DOAG and its representative, the Attorney General, to operate in flagrant disregard of the law and in a state of wilful ignorance about the nature and needs of goats.
I have made repeated requests to visit the goats, to count them and assess their physical state and the conditions of their confinement. Each request has been denied.

WHAT IS THE STATE OF CONNECTICUT HIDING THAT IT (YOU) DON'T WANT THE PUBLIC TO SEE?

At their home in Redding, my goats led happy lives. They had expansive areas for grazing and recreation 24/7; I fed them copious amounts of hay, grain and water to fully satisfy their needs; most of the goats grazed freely on meadow vegetation, leaves and the nutritious bark of fallen tree limbs. I provided the goats with numerous sheltering arrangements which enabled them to survive the variable weather conditions throughout the year; I had the help of numerous good souls who pitched in to help with goat care and shelter maintenance; when appropriate the goats were seen by veterinarians. All the goats enjoyed the pleasures of social relationships with other goats of their choosing. Mothers and their kids displayed intense bonding and loyalty to one another. I was available 24 hours a day, 7 days a week, in rain, snow, ice and through all the hot days of summer, for the 13 years I cared for them.
Then came the sudden, horrific raid by the State of Connecticut.
At the DOAG facility, my goats have been subject to the following, according to information visible in a photograph taken illicitly by an individual allowed access to the facility and circulated widely on the Internet:
Overcrowding (10 goats in a 10' X 10' stall), separation from family members including nursing kids from their mothers, lack of hay, lack of water, lack of opportunity to engage in outdoor exercise and play.
Veterinarians paid by the State of Connecticut have breached minimal standards of veterinarian practice: they and their colleagues at DOAG forbid me from providing them with medical and social histories of any of the goats as well as medications prescribed by a veterinarian and treatment protocols and therapy I administered on an individual basis. They knowingly separated lactating mothers from their babies. Acts of veterinarian malpractice have abounded and continue. You and DOAG have wrongfully withheld the veterinarian records. The State of Connecticut is running up a colossal tab of liabilities.
You, acting through DOAG and the Office of the Attorney General, contrived to create an illusion that in some way the care I provided to the goats was deficient. Had you or they made an effort to communicate any such claimed deficiencies, and if any had merit, the issues would have been addressed fully and immediately. If not, you might have explored other options. You made no effort to communicate: you chose terror tactics. I demand to know why.
As you know and as the Attorney General and the DOAG know, I have located reputable and suitable animal sanctuaries and private individuals who have been willing – since before the March 10, 2021 seizure – to adopt all of my goats at no cost to the State of Connecticut.
I have repeatedly stressed my willingness to proceed immediately with such adoptions because in each case the goats will be assured of excellent care and love by their new owners as well as the opportunity to live out their natural lives in such circumstances.
The alternative the State of Connecticut offers is grim: continued cruel and abusive treatment pending auction sale and slaughter.
Your conduct in this matter is intended to shut down the Mothers Milk Project, a First Amendment-protected enterprise. Why? The taxpayers are entitled to know. You are keeping them in the dark. I urge you to visit www.MothersMilkProject.org.
I await notification of your immediate release of the goats to the animal sanctuaries and individuals I have identified.
Sincerely,

Nancy Burton
STATE OF CONNECTICUT TRYING TO
SHUT DOWN MOTHERS MILK PROJECT!
FOR SHAME!
HELP RESCUE THE BEAUTIFUL GOATS!
Why are these goats so sad and anxious?

The sad-eyed goats were stolen from their home in Redding, Connecticut. Here are ten of Nancy's goats in state custody bound for illegal auction and slaughter.

Nancy Burton, former public-interest attorney devoted to protecting people's civil liberties and the environment, experienced the unthinkable on March 10, 2021.
At 8 AM that morning of infamy, agents of the Connecticut Department of Agriculture and the Redding (CT) Police Department staged a brutal surprise raid on her home and property in her absence and stole her herd of beautiful, healthy goats armed with a fraudulent warrant issued by a judge burdened with conflicts.
These agents of the state are committing deliberate and illegal acts of animal cruelty and abuse on a daily basis.
Their real objective is to shut down the Mothers Milk Project and interfere with Nancy's public-interest activism.
They must be stopped. Now. You can help.

Read on.

The Connecticut Department of Agriculture ("DOAG"), which is principally devoted to commercial exploitation and slaughter of healthy animals, broke into Nancy's property without notice in her absence on March 10, 2021 and seized - by its count - 65 goats.
Each goat was healthy, active, loved and well cared for by Nancy and her band of helpers and a had a role in the First Amendment-protected Mothers Milk Project. All but nine of the goats were available for adoption to expand the Mothers Milk Project with many data points of milk collection. In fact, Nancy had located two goat sanctuaries and numerous individuals committed to adopting all the goats. Twelve were scheduled to be transferred to a sanctuary the weekend before the seizure but snow and ice conditions forced a delay. All the remaining goats were scheduled to be transferred in the coming few days at no cost to Nancy.
The State of Connecticut was fully aware of Nancy's plans to transfer all but nine of her goats to 501(c)(3) charitable facilities and suitable homes – where all the goats would live in peace and security for the duration of their natural lives - in the coming days. Had it not interfered with Nancy's plans, her goats would be thriving today in loving homes.
Instead, the State of Connecticut is using the goats as a pretext to harm Nancy, interfere with her public-interest work, disrupt the Mothers Milk Project and cause her great unnecessary expense, all while subjecting Nancy's goats to deliberate acts of cruelty and abuse.
And what of the goats?
The State of Connecticut, acting through DOAG Commissioner Bryan Hurlburt and Jeremiah Dunn, DOAG's chief animal control officer (as used hereinafter, "Jeremiah" refers both to Jeremiah Dunn individually and others on the DOAG staff who have had involvement, direct or indirect, with Nancy's goats) and DOAG staff, is practicing acts of deliberate animal cruelty and abuse on Nancy's goats. Here are a few of many examples:
· Although when she was illegally seized she was healthy and robust, Goat "#6" (as she was designated by DOAG, who didn't even ask Nancy for the names of her goats) died 28 days later while unattended in state custody; Jeremiah has released no cause of death nor details despite Nancy's requests.
· Prior to the seizure, Jeremiah had no communications with Nancy about any outstanding concerns about her goats' hooves and her mucking-out schedule, the pretext for issuance of the search and seizure warrant.
· During the seizure, Jeremiah directed the seizure "team" of DOAG agents to have no communications with Nancy and Jeremiah directed Nancy to have no communications with any of the DOAG agents or seizure "team" participants
·During the seizure, Nancy nevertheless attempted to inform Jeremiah and the seizure "team" participants of the medical and social histories of the goats, specific medical conditions and treatments she provided to them, as well as their medications as prescribed by a veterinarian; Nancy's pleas were ignored by Jeremiah and his team.
· Following the seizure, Nancy sent numerous emails to Jeremiah, Governor Ned Lamont, Attorney General William Tong, Bruce Sherman (acting state veterinarian) and others urgently requesting the opportunity to share her store of knowledge and experience with regard to her goats and their medical and social backgrounds; her requests were ignored by all.
· During their continuing confinement, Jeremiah separated Nancy's baby goats from their mothers; this cruel and unnecessary separation has deprived the babies of essential nutrition and opportunities for nurturing and continued bonding, which are critical to a goat's health and well-being
· Nancy has made two formal requests to visit the facility where Jeremiah has led her to believe the goats are confined so that she could meet with the goats and assess their health and the conditions of their confinement; Jeremiah has refused such requests.
·Jeremiah permitted a photograph of ten of Nancy's goats crowded into a stall at the DOAG facility housing Nancy's goats to be taken illegally and illicitly and posted to the Internet with comments suggesting that DOAG's public auction process is rigged and corrupted.
·Jeremiah has instructed Nancy to pay $32,500 by bond and $47,000 in cash to DOAG immediately to spare the goats from auction and likely slaughter during pendency of the goat seizure case, while he was aware that Nancy had and continues to have firm plans to transfer all but nine of her goats to qualifying sanctuaries and individuals at no cost to herself nor the State of Connecticut.
· Jeremiah and his predecessors have no records of ever having accepted such a bond from any other animal owner whose animal(s) had been seized by DOAG.
· Nancy has requested that Jeremiah release all veterinarian records concerning her goats, but he has withheld such public records without proper cause.
Needless to say, Nancy's goats have all been traumatized and made to suffer needlessly by the illegal and deliberately cruel and abusive treatment accorded them by Jeremiah.
At the same time, Jeremiah has deliberately and illegally traumatized and tormented Nancy in bad faith for impermissible purposes. Through "Jeremiah," DOAG secured a warrant enabling himself and DOAG agents and others to break into and invade her home – a deeply disturbing violation of her Fourth Amendment rights – without providing a statement of cause, let alone a sworn statement of probable cause, that the invaders would discover evidence of a crime involving the goats inside her home, as they did not. However, certain of Nancy's irreplaceable possessions, including private papers, present prior to the invasion, went missing in the course of the invasion; hence, the only "crime" discovered in the home invasion was the crime of the invaders or one or some of them.

Milky and Jillian to the White House!

Back on March 11, 2012, we took Katie the Goat and her granddaughter, Dana Blue-Eyes, to the White House on Katie's Farewell tour, as she was dying of cancer. Visit KatieTheGoat.org and the link to Katie the Goat on this site.
We proposed to then-First Lady Michelle Obama that the First Family adopt Dana as a family pet (Abraham Lincoln provided the precedent when he let his boys adopt two goats while in residence in the White House) as well as the First Family's personal radiation monitor.
Michelle Obama pronounced the offer "fantastic" but politely declined.
With great urgency, we now propose that the Biden White House rescue and adopt our beautiful Milky and her adorable daughter, Jillian (named after First Lady Dr. Jill Biden).
Milky and Jillian are pictured here at their home in Redding, Connecticut before the State of Connecticut illegally seized them and all their cousins and brothers and sisters and aunts and uncles under false and bogus pretenses in an unannounced raid on March 10, 2021. The real goal? To shut down the Mothers Milk Project and Nancy's anti-nuclear activism.
They were taken to the state's facility for seized animals to await auction and slaughter – the ultimate act of animal cruelty.
Nancy is waging a bitter legal battle to release them.
The State of Connecticut has revealed its disregard for animal welfare by heaping cruelty and abuse upon Milky and Jillian. Although Jillian was being suckled by Milky up to the moment they were seized and thereby enjoying superior nutrition, and the two were tightly bonded, the State of Connecticut ignored Nancy's pleas to keep them together during their confinement: it separated them from each other immediately and has kept them separated. What is more cruel than that?
The State of Connecticut has refused to accept Nancy's offers of medical and social histories of Milky and Jillian – and all the other goats. What is more blatant veterinarian malpractice than that?
The State of Connecticut – we mean you, Governor Lamont, and you, Bryan Hurlburt, Commissioner of Agriculture, and you, Jeremiah Dunn, chief animal control officer – refuses to let Milky and Jillian's devoted and heartbroken owner, Nancy, visit them or inspect the conditions under which they have been forcibly confined despite evidence that they are in overcrowded stalls, lacking in hay and water, and that they are in emotional despair and miss their home, their family members and the security and safety Nancy provided to them.
Although we wrote to President Joe Biden and First Lady Jill Biden on March 18, 2021 with our appeal to rescue and adopt Milky and Jillian, we have not yet heard from them. Read our letter here.
Won't you take a moment to send an appeal to the First Family to rescue Milky and Jillian from their cruel confinement by the State of Connecticut and free them to participate in the Mothers Milk Project?

Here is the mailing address:
President Joe Biden and First Lady Dr. Jill Biden
The White House
1600 Pennsylvania Avenue NW
Washington DC 20006

Here is our letter to the President and First Lady:

March 18, 2021


Dear President Joe Biden and First Lady Jill Biden,
This is an invitation to you to rescue and adopt two beautiful and friendly goats, Milky and Jillian.
Jillian was born on my property in Redding, Connecticut over the winter and I named her after First Lady Dr. Jill Biden, lover of animals and role model par excellence for young girls.
If you agree to adopt Milky and Jillian, you will also be a goat rescuer as Milky, Jillian and their entire goat family were illegally seized from my property on March 10 in an ugly episode of animal cruelty which I shortly will be challenging in the courts.
Milky and Jillian have a distinguished heritage. They are, respectively, great granddaughter and great great granddaughter of Katie the Goat, who became a well-known Connecticut anti-nuclear celebrity. Katie grazed at a farm five miles downwind of the Millstone nuclear power plant in Waterford, Connecticut, and both the state Department of Environmental Protection and the owners and operators of Millstone detected high levels of radioactivity in the milk she fed her babies when they conducted environmental monitoring. (The nuclear industry rates goat milk as the gold standard for detecting radioactivity in the environment.)
When Katie was dying of cancer in 2012, we took her on a Farewell Tour to the Obama White House and offered the Obama family the opportunity to adopt Katie's granddaughter, Dana Blue-Eyes, as a family pet and as a personal radiation monitor. (Abraham Lincoln established the precedent when he allowed his sons to keep two goats in the White House!)
Then-First Lady Michelle Obama called our adoption invitation "Fantastic!" in an email. She regretted that adoption would not be possible but wished us every success with the Mothers Milk Project. Please visit KatieTheGoat.org to learn more.
That brings us to Milky and Jillian.
We are so sorry that your German shepherd rescue dog Major recently misbehaved and had to be "quarantined" with Champ in Delaware. We know how much you must miss them.
Please let Milky and Jillian take their place as your White House pets. We dearly treasure them both but know you and your family would take the very best care of them and adore them as we do.
If you are able to adopt them, expanding the Mothers Milk Project to the White House would do so much to educate the public about the hazards of nuclear power.
Please say YES!

Sincerely,
Nancy Burton
Director
Connecticut Coalition Against Millstone
www.MothballMillstone.org